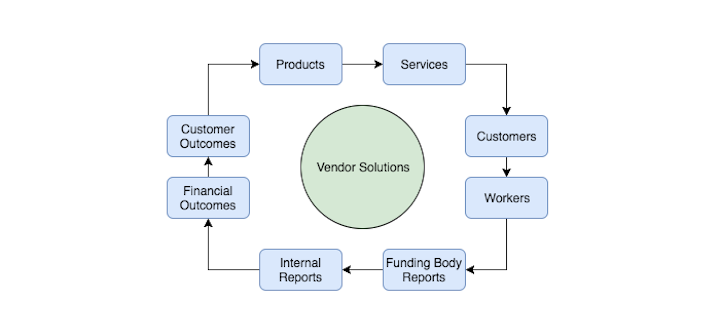 Will one customer management system meet your NGO's full needs? How do we assess this?
Purchasing the right customer management system is a critical decision for your organisation's future. Such systems manage key functions from accurate client confidential records through to aggregated reporting to your funders and Board.
The conundrum becomes will one system meet your organisation's needs? Or should you consider a range of products to cater for the ever increasing diversity of operations? With new Commonwealth Government reporting systems such as DSS Data Exchange, My Aged Care & NDIA Claim Payment Portal this question becomes even more complex.
There is no definitive answer but there are basic indicators that can assist you to make the right decision. Consider the following key points:
Does your organisation rely on individualised funding programs to a large degree? If yes, then you will need to track payments and integrate with your existing financial packages.

How diverse are your funded programs? If they are highly diverse such as services requiring mentoring, foster care or high levels of volunteering, than you require to manage both individualised and bulk funding programs and be able to measure performance across the organisation.

What is your workforce composition and what are your needs to measure outgoings vs income? The more complex the workforce is, the more important it is to have a system that integrates with your HR software and can handle award interpretation, rostering and timesheets.

What are your reporting requirements and how many Government Portals do you need to integrate with? For complex integration requirements you need to select a software that is capable of exchanging data with funding body portals or develop custom integration to meet your specific needs.

How siloed is your organisation and how varied is the culture and output of each silo? If your branches must retain customer confidentiality and reporting independence you will need a multi-tenant software that offers independence as well as governance across multiple locations and programs.
Once you analysed your organisation's requirements, it is important to obtain the right advice and guidance to navigate the existing product market.  
Engage with a consultant that has varied experience in the Community Services sector. Such consultant can help work through the questions outlined above and steer your organisation in the direction of the correct product or suite of products to meet your needs.

The product or suite of products your organisation selects must be compatible with each other and preferably developed by a single vendor or by vendors who work in collaboration to ensure the solutions are supported effectively.

The product or suite of products selected must be able to integrate with your finance and HR systems to ensure you can manage your financial position and workforce effectively.

The product(s) used by mobile workforce should be available 24/7 from any location and preferably be compatible with mobile devices.

The vendors supporting new products must be able to import your historical data to reduce the impact on day to day activities.

The product or suite of products selected can be introduced to the organisation over a period of time to reduce change management and stress.
Community Data Solutions can provide consultancy services but also works on a regular basis with a wide range of excellent consultants from around Australia with a background in Community Services. If your organisation is seeking advise or CRM software products, feel free to contact us for a demonstration of any of our systems.