CommunityCI for Government Agencies and Peak Bodies is a 2-tier, multi-tenant solution enabling governments to design outcome frameworks and collect service outputs and outcomes data from funded organisations. Government reporting is simplified by using an electronic submission process with due date controls. CommunityCI supports multiple government agencies use of a single shared platform secured by data segregation controls and customised reporting for each managed program. The value proposition of community outcomes for Government and other funded programs can be tracked in the system against the value of performance contracts. In this way Government, Consortium leads, Peak Bodies can assess the value of outcomes both qualitatively and through contract value.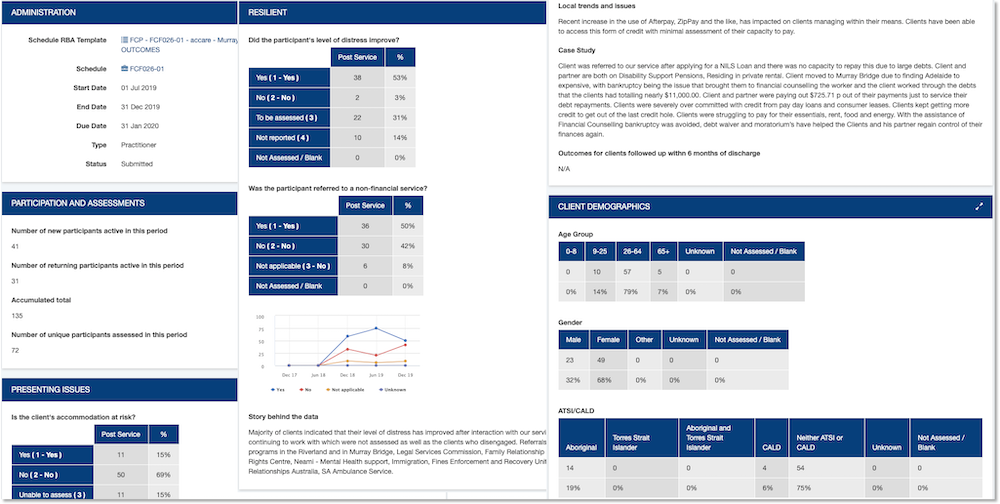 CommunityCI for Governments Solution Features
CommunityCI Application Management & Use

Mobile responsive user interface
Government Application Manager & Program Manager user accounts
Create and manage funded organisations
Design client data intake model and demographics
Funded organisation, administrator, program manager and practitioner user accounts
Funded organisation ownership of client data
Government ownership of outcomes data

CommunityCI Program Management

Service program and streams management
Funded contract/schedule management
Program goals management

Outcomes Framework Management

Design performance measures and custom frameworks

Design assessment questionnaires using any scale
Configure scale translations to RBA, SCORE and more
Configure outcome indexes
Manage customer target groups

Outcomes Data Intake

Practitioner online intake of client and outcomes data
Practitioner import client and outcomes data from spreadsheet
Client online intake of outcomes data by email or SMS invitation
Client online intake of outcomes data by tablet kiosk

Government Reporting

Aggregated outcomes submission process for community events
Individual outcomes automated submission process for 1×1 intervention and small group work

Outcomes Analysis

Analyse program outcomes collective impact
Analyse program outputs overtime
Analyse changes in client circumstances during intervention

Develop framework specific reports using CommunityBI reporting framework (requires CommunityBI subscription)
Government and Peak Body instances of CommunityCI are highly customised. Hence pricing is established through a series of consultations and discussions. Please enquire for an initial discussion and ballpark pricing to decide if you would choose to proceed with a broader project. CDS choose not to actively tender through procurement processes for this work but price on a consultation basis.
Cost depends on custom requirements:
Government Account Establishment
Complete solution scoping process
Implementation of Government outcome frameworks and performance indicators
Implementation of built-in or custom Frameworks & Scales
Training & 24/7 support
Knowledge base online system for user support